Uni looks to replace Scott Meyer while former Trojans coach says his decision to take Lakewood job is 'shocking'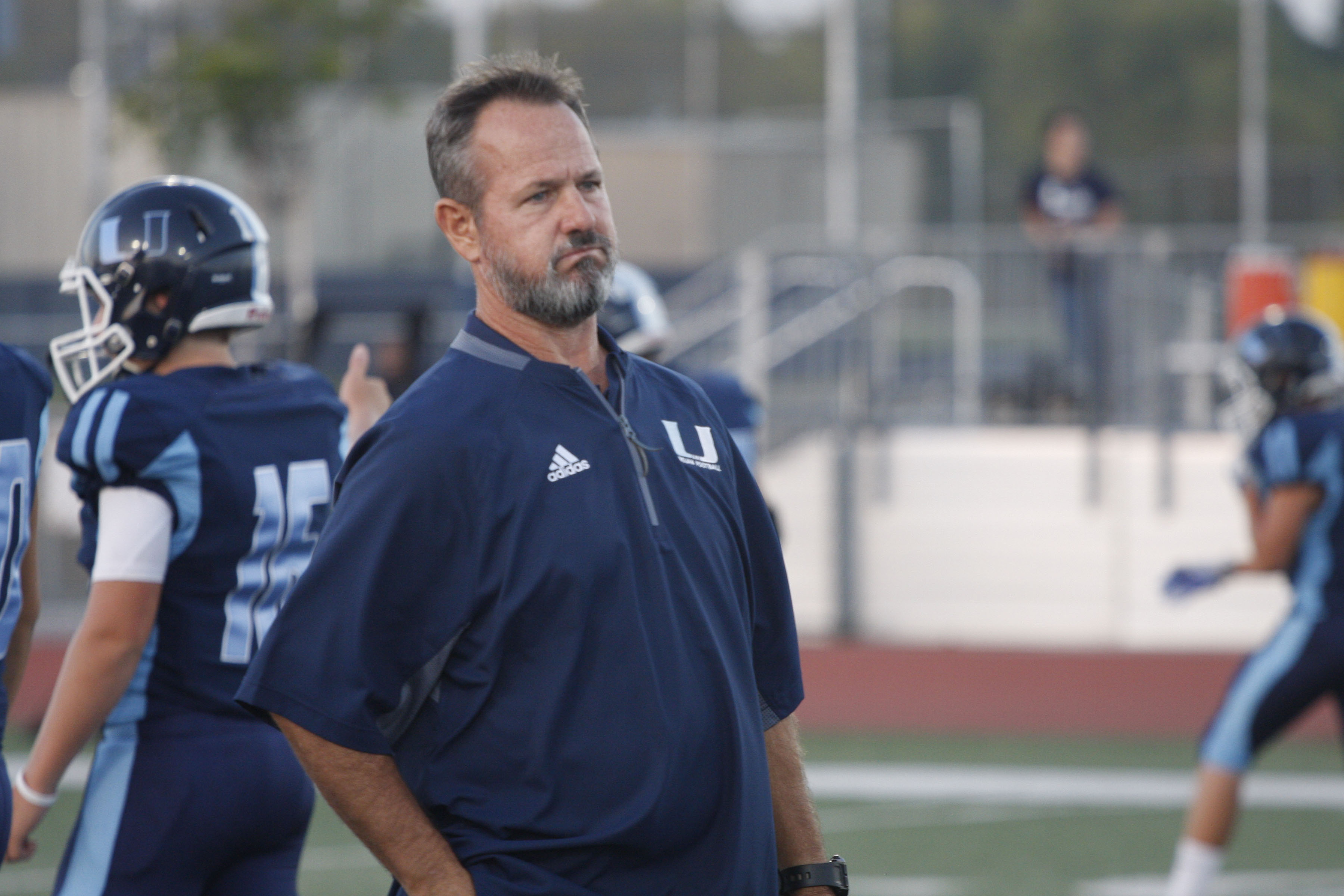 File photo: Fernando M. Donado, For OC Sports Zone
Scott Meyer announced Tuesday he is leaving to become Lakewood's new coach.
University High officials are beginning a search for another head varsity football coach after Scott Meyer announced Tuesday he was leaving to become the new coach at Lakewood.
Officials believed that Meyer, who indicated he was excited to be back coaching and teaching at a public high school, would be at Uni for many years. So they were likely caught off-guard at his decision to take the Lakewood job after one year as Uni's head coach.
Now, they are forced to begin another search and the Trojans will be under the direction of their third coach in three years. Mark Cunningham retired after 32 years before Meyer got the job,.
"We are thankful for the time we had with Coach Meyer," said Athletic Director Tom Shrake in a statement to OC Sports Zone. "His leadership, mentorship and knowledge of the game are exceptional. I wish him the best of luck and know that this move is best for Scott and his family.
"Uni will be working swiftly and diligently to fill the head coach position. We will be looking to find someone that is not only a great coach, but is also a great person, leader, and educator. Our athletes and community deserve the best and we are committed to finding it."
The search for a new coach will begin immediately, Shrake said
"We will be flying two separate positions immediately: social science teacher and head football coach (with the possibility of a teaching position). Since Coach Meyer is departing at the end of January, we are eager to get both positions filled."
Cunningham, the former coach who was instrumental in hiring Meyer, expressed his surprise at Meyer's decision. He was still athletic director when Meyer was hired.
"The news was shocking to me," Cunningham said. "I am concerned about the players. Next year's seniors will have had three coaches in three years. But if I know anything about Uni football players; I know what kind of heart, desire,and dedication they possess. They will attack this situation and overcome any obstacles placed in front of them, as they always have.
"I am sure Branton Lucas and other upcoming seniors will step up and lead the team through these difficult times. The boosters, the community and the administration will provide all the support in the world, of that I am sure. I hope whomever the next coach is, that a commitment will be made to the program that will prevent this kind of disruption."
Meyer was a highly-regarded coach who led Corona del Mar to three CIF titles before going to Servite.
"I think it makes sense for Scott and his family," said Irvine Coach Erik Terry. "His roots are in the Long Beach area and the Moore League. It is an unfortunate loss for University as he is an outstanding coach."
SCOTT MEYER NAMED NEW FOOTBALL COACH AT LAKEWOOD
-Tim Burt, OC Sports Zone; timburt@ocsportszone.com