Western and Mater Dei CIF championship football teams headed to state playoffs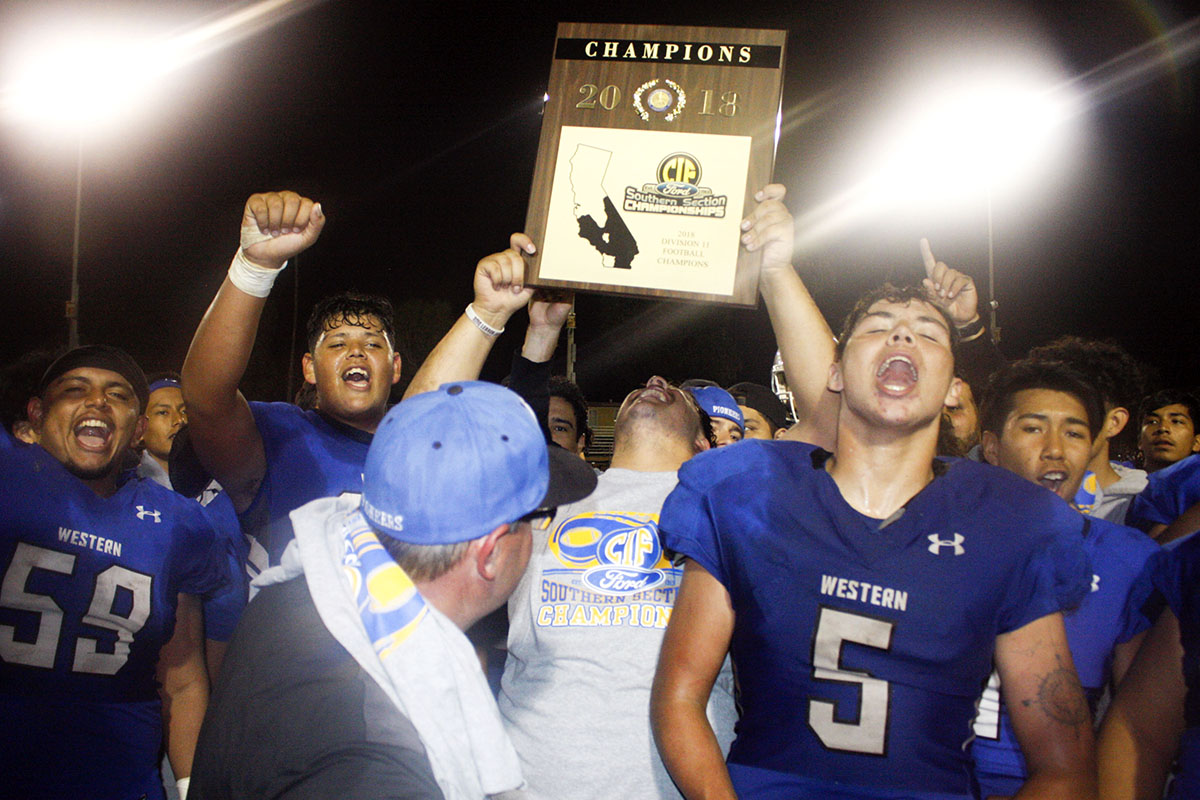 Fernando M. Donado, For OC Sports Zone
Western football players celebrate after the Pioneers won their first CIF football title.
Western and Mater Dei, who captured CIF football championships this weekend, are headed to the state playoffs.
Western, which defeated Peninsula 49-21 to captured the CIF Division 11 title, the first in school history, is headed to the CIF 5AA SoCal regional Friday night on the road against San Gorgonio (11-3) the CIF Division 9 champion.
San Gorgonio defeated Brea Olinda 21-18 Friday night to win the CIF crown.
The winner of that game moves on to face the Northern California winner, which will be announced later in the 5AA state championship game on Saturday, Dec. 15. The Northern California game will be played on Saturday, Dec. 7.
The championship game in the 5AA division will be played at host sites.
Mater Dei, the CIF Division 1 champion which defeated top-seeded St. John Bosco 21-18, has a bye this week and will face the Northern California winner in the state open division championship game on Saturday, Dec. 8 at 8 p.m. at Cerritos College.
There is no regional game for the open division.
The Northern California brackets will be available on Sunday, Dec. 2.
MATER DEI GETS SWEET REVENGE WITH 17-13 VICTORY OVER ST. JOHN BOSCO IN FINALS
WESTERN BEATS PENINSULA 49-21 AND CELEBRATES FIRST CIF FOOTBALL TITLE