Best effort of the year lifts Irvine to 30-14 upset victory over fourth-seeded Ocean View in CIF Division 11 opener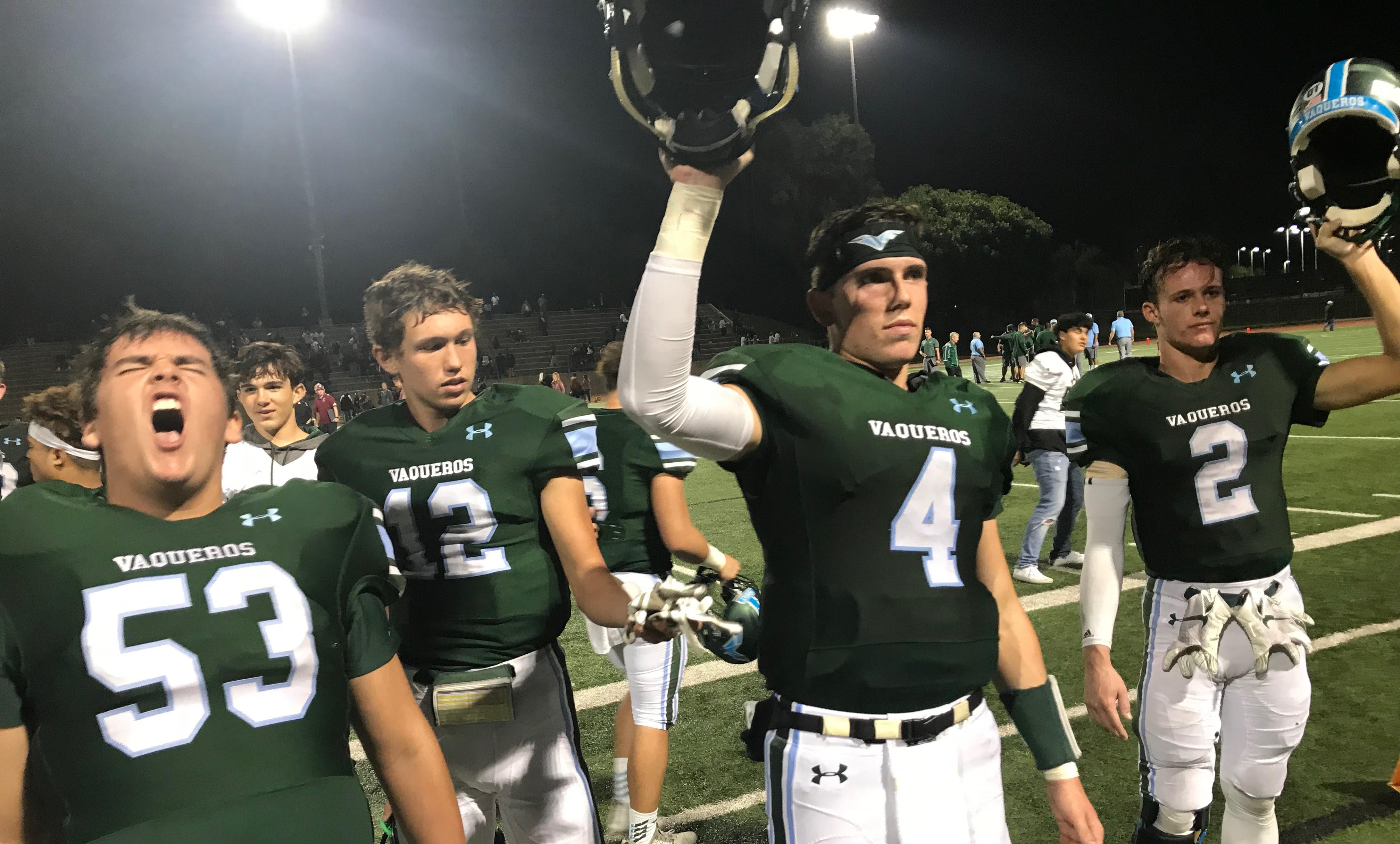 Irvine football players, including Marc Filia (No. 4) and Brandon Alvidres (No. 53) celebrate after Friday's victory against Ocean View (Lead photo: Tim Burt; game photos courtesy James Tomlin.
Irvine High's football team picked an excellent time to turn in its best performance of the year Friday night.
The Vaqueros came out fired up from the start and captured a 30-14 victory over fourth-seeded Ocean View in the opening round of the CIF Division 11 playoffs at Irvine Stadium. Irvine came in 4-6 and Ocean View was 9-1.
To see the slide show, please click on the first photo
But Irvine had too much firepower, led by quarterback Marc Filia who passed for 165 yards and two touchdowns to move into the second round against Hemet Friday night in Hemet.
"After last week, we didn't think we put on a very good performance against Northwood," said Irvine Coach Erik Terry. "Northwood played their hearts out and I think we came out a little flat and challenged our guys.
"You don't know in the playoffs so if you play your best football and then at least at the end of the day, you can feel you played your very, very best. Just play your best football and don't worry about your opponent."
Irvine took a 3-0 lead on a 27-yard field goal by Bryce Tanikawa in the first quarter.
Then, Dany Frukacz scored on a 12-yard TD run and Filia hit Frukacz on a 20-yard TD pass.
The Vaqueros extended their lead to 24-0 when Lorenzo Bazzani, Irvine's fifth running back, broke loose on a 69-yard TD run which seemed to take the spirit out of the visiting Seahawks.
"That was great because Bazzani has been a workhorse kind of kid for us all year," Terry said. "He's playing inside linebacker for us which he's never played and he's doing a great job. He's our fullback, wing-back and he's the fifth running back of our five backs because he get the least amount of carries, so for him to get that touchdown, that's awesome.
"We were just trying to run the ball a little and kill some clock and if we got down, maybe get a chance for a field goal. But he saw something and ripped through there."
Ocean View (9-2) cut the lead to 24-7 when quarterback Noah Hickman connected with Will Earthman on a 7-yard TD pass in the third quarter.
But Filia hit Jacob Sears on a 13-yard TD pass with 9:19 left in the game. Rodrigo Adame scored on a 17-yard TD run in the fourth quarter for Ocean View's other score.
Ocean View, coming off an outstanding regular season could not get going at the start. The Seahawks were flagged for more than 100 yards in penalties in the game and had two turnovers.
"Like I told the boys, we just didn't execute," said Ocean View Coach Luis Nunez. "It came down to execution and we came out and made some mistakes early on. We knew they were a well coached team and it wasn't going to be easy tonight. They've very disciplined and if we execute, I think the outcome might be a little different. They did a great job. My hats off to Coach Terry and his staff; they were the better team tonight."
Hickman passed for 102 yards and rushed for 105 yards while Adame rushed for 100 yards.
Filia, cheered on by his family, led the way for Irvine.
"Our coaches challenged us," he said. "We knew these guys were going to be good, 9-1 on the season, and we just came out and played for each other and a had a lot of fun. Our coaches just told us, 'don't worry about the score, just have fun and make a lot of memories' and we came out and got a win..
"We came out and played with a chip on our shoulder."
                   STATS      
OV            00    00    07    07    –   14
IRV           03    21    00    00     –   30
RUSHING: OV Hickman 20-105, Adame 9-100; IRV Bazzani 2-73; Bautista 9-42.
PASSING: OV Hickman 7-10-0, 102 yards, 1 TD; IRV Filia 13-21-0, 165 yards, 2 TDs
RECEIVING: OV Earthman 4-47, Alcarez 3-37; IRV Tanikawa 4-61. Haley 3-41
-Tim Burt, OC Sports Zone; timburt@ocsportszone.com